Please help support the Free Board by visiting our sponsors,
UPGRADE YOUR SMYW MEMBERSHIP!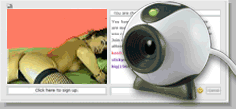 Outdoor camping fun.
---
---
Show Me Your Wife: Wife Stories: Outdoor camping fun.
---
By Watcher (Watcher) on Thursday, May 12, 2005 - 11:57 am: Edit Post

My wife talked me into camping in a tent last weekend. We went to a large camping resort along a clear stream. It was warm and we took only swimsuits and a pair of shorts. She is a nudist at heart so her swimsuit was a string thong and string top. As soon as we got set up Friday night we popped open our first beers. There were a few other tents and some RV's around but not a lot because we were there early in the afternoon.

We made a small campfire and turned on the stereo and having fun tossing down our cold beer. By 5:30 PM several others had pulled in the large campground and we watched them set up their camps. My wife was in her thong and we were getting pretty happy on our drinks. She was feeling sexy and hot as she usually does on a trip so we decided to walk the campground and see if there were any party people to hang around with. On the far end about a half-mile from our spot we found a small group of guys that had a great camp set up.

They had a large flat trailer with four-foot tall sides on it full of firewood. On one side they had an old dresser full of their food and cooking utensils. I joked with them about their "camper" and they said they always came to the resort before all the kids got out of school. My wife was flirting already and the guys loved her hot ass in the thong. Her big tits are heavy enough that her top always comes untied and she played it up good with the guys. They were mixing drinks and offered her some of their grog.

By dark we were all best friends and partying like crazy. We brought some of our food and chairs over and cooked on their big fire. Even though it was getting cool their big fire kept the whole area hot and the guys talked my hot wife out of her top just after dark. She danced around the fire with her 38dd's swinging wildly and the guys loved it. I guess we were making quite a bit of noise because a few other people came over and partied with us. The other girls saw my wife's tits and the guys tried to get them to go topless with her.

They did flash their tits a few times but by midnight they left. While we were trying to get the other girls to show their stuff my wife slipped off with one of the younger guys to his tent. He was a wild looking guy but very nice. He had piercings in his nipples and said he had another that she wanted to see. I guessed that that was what they were doing but after 30 minutes we all knew they were doing a little more than show and tell. After a while we went to his tent and unzipped it and they were fucking like rabbits. He was lying on his back and she was on his cock humping fast and hard.

They just laughed at us and kept going. His cock was very long and quite big around. In the light of the big fire we could watch her pussy consuming his nice cock so we watched, and watched, and watched. It was almost an hour later and we had to go get many beers before he came in her horny pussy. She laughed and said she needed a drink as she came out of the tent naked. Her pussy looked hot as hell in the firelight with their juices making it glisten in the firelight. I told them that we love to share her and it was a competition to see who she would like next.

I sat in a chair by the fire and they all played with her hot body as we partied. Sometime around midnight I passed out in the chair and woke around 2AM to the sound of another guy snoring in his chair. I looked around and saw the tent moving around and looked inside to find her with two of the guys. One in her ass and one in her pussy! I watched a little but was almost to get sick from drinking so much so I walked back to our tent and passed out.

The next morning about 9AM she was lying on top of her sleeping bag naked. She smelled like a campfire and sex so I knew she hadn't been back long. I looked her body over and she had hickeys around her nipples and spank marks on her sweet ass. She looked like she was very drunk so I let her sleep and went to town to get more beer and some fishing supplies. When I got back it was about 11:00 and she was gone. I found her at the guy's camp totally naked and barefoot in the late morning sun. They were all setting around the fire joking about how hot my wife was the night before. Each time the camp guard came around she would hide behind an truck.

They said they were going to canoe the creek and take a short trip if we wanted to go with them. I said sure. We packed up a lot of drinks and snacks and off we went. The ride to the drop-off point took about 15 minutes and my wife had a towel wrapped around her. As soon as we had floated out of sight of the school bus she tossed the towel back to me and she was naked like always. The guys took good care of us all afternoon with drinks food and of course hard cock for her.

That afternoon she got drunk fast and she let the guys do anything they wanted. They fucked her in canoes on gravel bars, and even in the cold water. She and one of the guys was fucking in a part of the creek that was chest high and a canoe with two teen boys in it came around the bend up stream. The two boys saw her big tits instantly and they yelled, OH Yeah! As the guy fucked her from behind he pulled her big tits completely out of the water with her backed up to his cock.

The boys both jumped out of their canoe and splashed over to them. They started sucking her tits and telling her how fucking hot she was. It was then they noticed she was getting fucked right then and there. They were our new friends. Our float lasted another hour and a half and she had both the boys twice. Since we went upstream we came back next to our camp and I let her out, naked, to go back to our camp and I took the canoe on to the takeout spot. When I pulled our cooler up to the tent it was easy to hear them in there fucking. She was yelling out yess, yesss!

I waited till they came and the two boys came out still freaking out about such a horny bitch. I talked to them a little and they walked off to their camp and I went into the tent. She was passed out cold at 6 PM. I laid down next to her and she had a flow of cum that made a spot around her on her sleeping bag a foot in diameter. She moved one of her legs and her pussy made a farting sound with a gush of cum bubbling out of her ass and pussy.

I slipped my hard cock in her pussy and she never even moved. It felt good to have her so wet and stretched out so I played with her holes while I pumped in and out of her. I came like a horse and my cum didn't even stay in a second. It rolled out with all the rest all over her ass and legs. We slept till almost midnight. The whole time we were sleeping guys kept coming over to our tent and wanted to fuck. Finally at midnight she had slept for six hours and she got up and slipped out thinking I was asleep.

I rose up and looked out to see what she was doing. She must have still been a little drunk because she squatted down holding onto the picnic table and pissed a gallon. She stood straight up without wiping and walked off into the darkness towards the guy's camp with a beer in hand. It was a long walk and I followed at a distance. She slowed down about halfway and I could hear piss hitting the gravel road but she was still moving forward. She was pissing as she walked!.

Finally she made it to the camp and only one guy was still up, but he was almost asleep in his chair by the fire. She went to him and pulled his cock out of his loose swim trunks and put the head in her horny mouth. He sucked in a deep breath of air and leaned back. She did a quick job of getting his cock hard and she stood up turned around and sat straight down on his pole. Her pussy was so sloppy it jammed straight in all the way.

They never even spoke a word and she leaned back on his chest and put her head on his shoulder. No one pumped or even moved they just fell asleep with her naked sitting on his stiff dick. I thought it was cool and crazy looking so I left them like that and went back to sleep myself. It was about noon on Sunday when she came trotting into our camp like a kid. She had a river of cum running down both legs and she turned around and pulled her ass cheeks open showing me her gaping ass hole.

We broke camp and packed all our stuff in the suburban and drove home with her naked and sleeping the whole way. We had been home only a few minutes when one of her black lovers called and wanted to come over for a little fucking fun. For the first time in months she said not tonight!




---
By Pmspa44 (Pmspa44) on Friday, May 13, 2005 - 8:08 pm: Edit Post

she is soooo hot. i enjoy hearing her adventures.



---
By Watcher on Wednesday, March 29, 2017 - 5:42 pm: Edit Post

We did it again last summer. My sexy wife is now 44 but to see her in a string thong bikini you would never guess. We had been hanging out all weekend with some young guys at a huge riverside campground because they were having a wild fun time. Ellen and I met them Friday at 5pm and of course she was wearing her red G-string and string top that barely covers her nipples. The guys were all under 30 and some were only 21 but when they saw Ellen they were in love!

We joined in drinking games with the 12 guys and by dark they had her naked and laying on the picnic table doing shots from her belly button and from between her big tits. At this point they had felt every inch of her body but no one had fucked her. She was dancing around their fire with some of the guys when they called for more shots. Ellen jumped on the table and lay back as the guys began pouring shots all over her body. one guy got kinky and decided to put the shot in her mouth and take it from her while they kissed. Ellen's nipples were so excited that they were nearly to explode and her clit was so swollen in 3eacitment that it bulged way out from her pussy lips as she frenched the guy and intertwined their tongues together.

The other guys decided to do more kinky shots and had Ellen lay with her legs up over her head and slipped a shot glass into her pussy. as he was pouring a shot the glass disappeared into her pussy and fell out of sight. everybody busted out laughing and Ellen had to let the guy fingered her while extracting the shot glass. she began to involuntarily hump h8is hand as he pushed three fingers in her to get the shot glass. They found a bigger glass and pushed it into her pussy and they did shots from her like that. By 10 pm the guys were doing shots and fucking Ellen on the table and it went on till the next morning!

I left her with the kids and she was having so much fun she never came to our camper again that weekend or put clothes on!



---
By Watcher on Wednesday, March 29, 2017 - 5:45 pm: Edit Post

the hottest part was that the guys were our son's age!