Please help support the Free Board by visiting our sponsors,
UPGRADE YOUR SMYW MEMBERSHIP!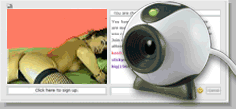 Dominatrix Part 2
---
---
Show Me Your Wife: Wife Stories: Dominatrix Part 2
---
By Studlyhungwell (Studlyhungwell) on Friday, June 17, 2005 - 2:48 pm: Edit Post

Joe was torn between the women when Jackie took a dog collar off the table and snapped it around his neck and led him on his knees to a position submission in front of Terry. Terry grabbed a handful of that thick blond hair and snapped his head back with one hand, then while holding that huge dildo by the shaft she forced it down his throat. He gagged and struggled to catch his breath and again Jackie pounced on him, whipping him and yelling, 'Put your fucking hands down and stop struggling. Take that dick and suck it for your Mistress!' She took his hands and pulled them behind him and had Cary get the cuffs and bind his arms behind him. Now he was leaning over and the only thing that kept him from falling on his face was Terry having a handful of his hair and that big phat dick in his mouth. Joe's mouth looked like it was almost too small to have that much dick in it. The lips were stretched thin. Cary was now standing here in nothing but a short skirt with her thong and her nipples were super hard. Jackie reached over and started twirling then twisting the long pink nipples. It felt so painfully good that Cary started get wet instantly.
"Get over here and get me strapped up! I want him to see me fucking his bitch!'
Cary followed Jackie to the bedroom and there on the king sized bed; lay a foot long dildo with clear plastic balls filled with some liquid. The plastic was loose and wrinkled like a real pair of balls. Jackie turned her back and Cary stood behind her and pulled the straps between Jackie's leg so she could snap the straps around her waist.
By now Terry led Joe into the room as well and bent him over the bed with his knees on the floor and his arms still bound behind him. She sat on the bed with that big dildo right in his face as she grabbed him by his head and forced him to suck her fake dick. Joe was slurping and sucking that phat black dick, licking all over it as Jackie played with her own tits, taking one of the big dark skinned jugs out so she could pinch the swollen nipple and suck it. She was getting horny as the she held the nipple in her mouth as her hand slide down between those thick thighs. She opened her legs wide and leaned back so Joe could lick from the tip of the dildo straight down the shaft and over the plastic balls and down her wet pussy. When she felt his tongue on her slit she grabbed him by the back of his head and made him lick her juicy twat before guiding his mouth to her puckered ring of joy. 'Oh you are such a wonderful pussy and ass licker. That's it tongue my asshole, oooooOOoo yes just like that. Lick it.'
Joe relished feeling the swirls of her anal orifice with the tip of his talented tongue. Terry looked like a bronze goddess as she pushed Cary onto the bed on her back and got between her milky white thighs. She held her fake dick like it was a tool to be reckoned with, like it was her pride and joy. Once she had the head propped against Cary's pussy opening, Terry thrust into the creamy split and grabbed Cary by her ankles and pushed her legs back so her knees were against her shoulders. As she drove that big phat dick to the hilt, Cary squealed in sweet agony she took it all the way to its root. No sooner than Terry had buried it as deep as it would go, she started thrusting and fucking Cary making the bed shake. Jackie was lying on her back with both her black spiked boots in the air and her big beautiful black tits hanging out, jiggling as Joe was licking from her asshole to her clit with his face buried in his work and his hand wrapped around the dick like he was jerking it off. Jackie was on fire and needed to release some of her pent up desires. She pushed Joe away and spun him around, 'Come lick his ass and get him ready!' Terry pulled the dripping dick out of Cary and pulled her over to Joe. Joe bent over and Cary started licking his hairy ass and going all the way down to suck his balls. Terry grabbed Joe's cock and yanked it out of the cup, it was a bright pink and hard and thin. She lifted it in the air and she took a leather cock ring with shiny metal studs and snapped around the base pf his cock and balls. Cary had the cheeks of Joe's ass pulling them apart so she could get his asshole lathered up. Jackie pushed her out of the way, bent Joe over and started probing between his butt cheeks with her tool. The grimace on Joe's face told you he had never had a tool this big splitting him open. Jackie's head and upper body leaned back as her hips pushed forward and the dick sank into the brownish pink opening. As she worked it in his asshole, she stretched his balls, pulling on them until they turned a reddish pink. She grabbed his hips and begin to thrust more powerfully, pulling the big dick out seven or eight inches and thrusting it back in with smooth strokes. Joe's face contorted in sheer delight. She took his collar in her hands and yanked his head and neck back like she was a jockey riding a horse down the last stretch. Her big tits were jiggling and shiny from perspiring and her big round ass looked powerful as she fucked her slave.
Terry bent Cary over and made her grab the edge of the bed with both hands as she drilled her with her foot long dong. She poked that dick in her and occasionally reached around under her and pulled her tits by the nipples until they looked like they were rubber. Her lithe body rocking back and forth in a fucking motion with the coat open and showing that sexy body in the garter and hose. She held Cary's hip with one hand and lashed her with the riding crop with the other. Cary's pussy opened and closed around the thick pole, turning the pussy folds inward on the in stroke and pulling them back out as she pulled back.
Jackie turned around so she could sit on the bed and Joe still had the toy in his rectum as he sat on Jackie's lap. He hovered over her lap with his feet spread apart and the dong buried in his butt. Now without his hands to help balance he had to ride the dick backwards, bouncing on it as Jackie whipped his ass. He rode the tip of the toy until Jackie took him by the elbows and yanked him down fully on the dick and he screamed as it ripped him open. His chest heaved as he found through the pain. Jackie made him take it, bounce up and down and her big titties bounced with his every move. She reached around to feel his pole and he was rock hard. Jackie jerked his dick as bucked on her lap.
Joe grunted and Jackie called out, 'get her over her let her suck his dick!'
Terry pulled out of Cary and Cary crawled in from of Joe with her hands on his knees and opened her mouth just as the first load of cum spewed in her face. Jackie's hand was a blur pounding up and down on his dick. Joe's mouth was wide open as he came it looked as if he were in shock. Terry got behind Cary and lifted her ass in the air so she could get to her sloppy pussy with the toy. She found the opening and no sooner than she was inside her, she begin to fuck away. Joe was nutting like a mule in Cary's mouth and Terry was fucking Cary from the back. Jackie eased up enough so she could get to her feet and fuck Joe. She held him by his arms and dicked him good, made him scream from the ass fucking which made him cum even more in Cary's mouth. Cum ran down the corners of her mouth like milk. The two ladies doing the fucking were sweating, Terry's bronze body so sexy as she held Cary by the shoulders as she fucked her. Jackie's thick dark skinned body glistening as she pounded Joe in his ass, her big tits swinging like meaty pendulums.




---
By Sloppy69uk (Sloppy69uk) on Saturday, June 18, 2005 - 7:20 am: Edit Post

oh wow more please



---
By Nice2bwith (Nice2bwith) on Sunday, June 19, 2005 - 6:35 pm: Edit Post

Wow! Quit it; you're scaring me...