Please help support the Free Board by visiting our sponsors,
UPGRADE YOUR SMYW MEMBERSHIP!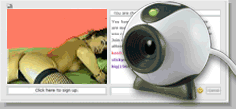 First trip to a swing club
---
---
Show Me Your Wife: Wife Stories: First trip to a swing club
---
By Hotlatina (Hotlatina) on Saturday, October 01, 2005 - 2:35 pm: Edit Post

Last week my wife and i went to a swing club for the first time. it is a very large club in LA. We wandered around a bit but there as not much action because it was only 10pm. We were there early and could not stay long because we had a sitter at home that needed to be home by midnight.
we decided to be bold and went into a dark room where anything goes. we bumped into a couple and started to have some naughty fun. I grabbed my wife's hand and put it on the woman's breast. My wife immediately started to suck on the tit. I knew my wife as bi but i had never experienced it with her.
As my wife sucked on the small perky tit i when behind the woman and grabed her tight ass. with my left hand and the other breast with my right one. My wife later told me that the man started to finger her wet pussy immediately.
I reached over to my wife's full sized breast and found the woman's hands all over them.
I slowly walked around the couple and my wife and felt a bulge in the man's pants. I helped him pull out his hard cock and gave it a quick lick as we found my wife's pussy ready to be fucked. He slip[ped his cock in her and pumped hard for a couple of minutes and came with a loud grunt.
As soon as he came my wife wanted to leave the room so we left without a word.
We sat on a couch outside the dark room and I eat her cum filled pussy as my wife jerked me off.

I came and we had to go but never got a look at the couple we had our first experience with.

We will be back soon.

PS If you were at the swing club and this sound familiar give us an email so we can hook up.



---
By Pistol762 (Pistol762) on Friday, October 07, 2005 - 4:06 pm: Edit Post

While living in Chicago a few years ago I had hooked up a few times with a woman who really liked to have her ass spanked among other events. Short version is she married and she invited me as a single guy to join her and her husband as their gues at a swinger club in DeKalb. I paid the fee for the evening...large club romm with the assorted back rooms, etc. Several of the women got a little frisky as the evening wore on...and a can of whipped cream and tit licking ensued. My lady friend invited me back to a room (no doors). We fucked for a bit...her husband and another woman watched us...but I found it a little distracting and had to struggle to concentrate and stay hard. Was an interesting experience. The very next day...a Sat I was a participant in gang-bang...of two women....Back-t0-back experinces to remember



---
By Hotlatina (Hotlatina) on Tuesday, October 11, 2005 - 4:50 pm: Edit Post

we will be at the swing club on the Sat before halloween dressed as DEVILS. Hope to see some of you there.