Please help support the Free Board by visiting our sponsors,
UPGRADE YOUR SMYW MEMBERSHIP!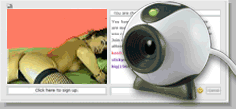 Indian couple 1st MFM - Part 4 (with pics)
---
---
Show Me Your Wife: Wife Stories: Indian couple 1st MFM - Part 4 (with pics)
---
By Sabina_varun (Sabina_varun) on Tuesday, April 18, 2006 - 4:13 am: Edit Post

After coming back to the hotel we engaged in some passionate love making. Again I brought up the topic of a 3some which was again rejected. She said she cud never make luv to another man with me in the same room. It was OK for a little bit of kissing, caressing (that also she is shocked that she cud ever b intimate with another man and it had more to do with alcohol than to do with her) but she cud never go the whole way. She said she loved Mark's company & his compliments but once again refused to go any further.

Later on Mark came to our room for a drink. Sabina was wearing a cream see thru top with a strap without bra and a short denim skirt without panties (see pic). Her nipples were poking out of the top as it was totally see thru. We sat on the balcony and the wind was blowing Sabina's skirt up and Mark was getting an eyeful of the trimmed triangle. Soon we came down to the restaurant as Sabina was v hungry. As we were very tired after a full day out at the beach and still nursing last night's hangover, Sabina suggested to get an early night's sleep. Mark said, let's walk a little bit so we went out for a stroll within our resort (the resort was huge). Sabina walked in between holding our hands. I was kissing her once in a while. Mark said that is not fair, he shud also get to kiss her. We laughed & joked. Sabina was visibly tired & so we decided to call it quits for the night. Mark requested for at least a good night kiss. After some teasing (only a kiss), Sabina agreed. We found a secluded place & Mark took Sabina in his arms and started kissing her slowly first & then more and more passionately. They were locked in a tight embrace and I knew Sabina was enjoying the feel of Mark's cock rubbing her stomach. I was thoroughly enjoying the sight with a big hard on and waiting for Mark to take the next step. However, after some time, they disengaged, looked at each other & Mark thanked her for the kiss. Mark later told me that he was forming a new strategy – to gain her trust first, let her herself admit that she is liking it and wants to proceed further. Anyway, we said our good nights and once in our room, Sabina was all over me. I said Darling, I thought u were tired. She had my shorts off the next moment and my throbbing cock in her mouth. I don't need to write details of our fucking as that wud b boring, and yes we fucked and then slept like babies in each other's arms.

I refused to give up on Mark and the next morning I was again asking her how she felt when Mark kissed, isn't she aroused, shudnt we go further etc. etc. Yes, she was aroused and the only thing she revealed of consequence was that Mark was not wearing underwear and she cud feel him v hard against her stomach. I asked her why she did not touch it and she gave me a sly smile and coyly admitted feeling it. She was teasing me and driving me nuts. I was a bit surprised then why Mark had not pushed her a bit further, he knew she was not wearing panties, maybe, at least caress her arse. But then Mark had behaved like a true gentleman. All said and done I was not able to get a commitment from Sabina of fulfilling my fantasy of a 3some.

We had breakfast with Mark and then agreed on going for some sight seeing & shopping. By now Mark had become a part of us. Sabina was wearing a see thru white top with black tracksuit bottom (see pic). The top was quite see thru & her breasts cud b clearly seen. By now Mark was used to seeing her in revealing clothes. She carries off v well wearing revealing clothes without showing any sign of discomfort or feeling out of place. I must once again admit Mark had been a perfect gentleman, never pushy & Sabina had teased him enough, it must have been hard to go to sleep alone with a hard on. While we were generally sight seeing & shopping, when we were alone, Mark hinted to me to give him some time alone with Sabina. He will talk her into it. So after lunch, I pretended to b tired & asked Mark to take Sabina for shopping. We were in a mall and I sat at a pub while Mark & Sabina went to complete her shopping. They returned after an hour or so and we returned to our hotel in the evening.

Once in our room Sabina told me that Mark had kissed her in one of the changing rooms in the mall while she was trying out a new dress. This is a very old fantasy of ours & we have done it many times. I probed further but she was evasive – yes he was v hard, no she did not feel his dick, on second thoughts, yes she did but just for a while, ummm she can't remember. Did he touch her – yeah little bit here n there, nothing much …. Wat was she wearing …. Oh trying out a dress etc. etc. but nothing concrete.
Well, I decided to ask Mark directly and we met in the pool while Sabina was resting. He told me that this is wat he cud understand from her during their time alone –
• She was game but not with me and I shud not come to know about it. She was too shy to do it in front of me & somehow she will not b comfortable. This was an impossible situation as even if I allowed them some time with each other, I will definitely know what is going on and further I wanted to participate – so once again we were coming to a dead end.
• Yes, he did kiss her in a changing room. The thought had not occurred to him, it was not his idea but Sabina's. As I have mentioned, Sabina n self have done it many times. She was trying out a few dresses and asking for Mark's approval. As she was trying another dress and Mark was going out of the changing room, she mischievously looked at him and said, he cud stay in if he wanted. And then she took off the dress she was wearing. I could visualize her standing only in her white see thru lacy panties in front of Mark. She teasingly smiled at him and was in his arms and passionately kissing and caressing him. I was like rock hard hearing this. Wat else did Mark do? Well, he took out her panties from his pocket and handed them over to me. And of course they were same as I had seen her wearing them in the morning. Boy, I was excited. No he didn't get to fuck her as it was too risky but he touched her all over & her cunt was dripping wet. He had to let her go as she started moaning loudly and he did not want the store owner to suspect. I know that Sabina makes loud moaning sounds during our lovemaking & it was a problem in the earlier stages of our marriage when we used to live in a small house with my parents. I literally had to put my hand over her mouth to shut her. Anything more – yes, she gave him a blowjob. My God, I just couldn't believe it. What a tease my sweet little wife was. This happened in another store's changing room as they did not want to spend too much time in the changing room of one store to arouse suspicion. I know the story as we had done this many times over. While she was changing Mark took off her panties and this time while kissing her guided her hand to his cock. This time she immediately pulled his dick out of his shorts and started caressing it. She knelt down and took it in his mouth. She started sucking (and she is a pro at this) and within minutes Mark exploded on her face and tits. And Mark – he was in seventh heaven. After leaving the store, he apologized for coming so early but she had teased him for so long and he had been storing that hard on and had to explode. She perfectly understood & was v sympathetic and was happy that at least she could satisfy him somehow & she herself wanted to do something for him.

Now I was in a dilemma. I cud not confront Sabina with the information I had as that wud give away the game. She may become horrified & refuse to go any further. So again I decided not to hurry anything and see how it goes. Mark was v happy to get the blowjob but now he too was seduced to the play that he did not want a gang bang thank u maam scene but whatever shud happen shud b natural.

To be continued



---
By Sabina_varun (Sabina_varun) on Tuesday, April 18, 2006 - 4:16 am: Edit Post

In our room in cream top and short skirt
---
By Sabina_varun (Sabina_varun) on Tuesday, April 18, 2006 - 4:18 am: Edit Post

another angle
---
By Sabina_varun (Sabina_varun) on Tuesday, April 18, 2006 - 4:19 am: Edit Post

in white top
---
By 987zq (987zq) on Wednesday, April 19, 2006 - 4:12 pm: Edit Post

Very hot story....ready and waiting for the next installment!