Please help support the Free Board by visiting our sponsors,
UPGRADE YOUR SMYW MEMBERSHIP!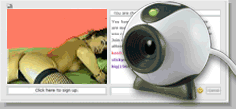 Laura's Mandingo Fantasy (Part 1)
---
---
Show Me Your Wife: Wife Stories: Laura's Mandingo Fantasy (Part 1)
---
By R_turner9992002 on Friday, August 13, 2010 - 1:59 am: Edit Post

(This may be a little tame compared to some of the bullshit stories you read,
but every word is true.)

Laura, my wife, has this Mandingo fantasy that gets her wet.

We were watching a reality series on television recently. There was this hunky negro dude
on the show, James. Bare chest, tight shorts, real hard body. I noticed that whenever
James was on the screen, Laura would start squirming around on the sofa and
pay real close attention.

I started teasing her about it. "You LIKE the dark meat, don't you slut?"
At first she just denied it and pretended she didn't know what I was talking about.

Then in a later episode, there was a scene where James was sticking out his tongue
in a sort of provocative way. She didn't realize that I was in the room, and I caught her
replaying that shot over and over. I snuck up behind her and said
"That big buck makes your pussy wet, doesn't he?" She tried to deny it,
but I pulled up her skirt, and just like I thought, her panties were soaked.
We hit the pause button and fucked like wild animals right there on the couch
with James watching us.

After that, it was Game On! Whenever James was on, Laura would hoot and holler
and act like a lust-crazed slut. "You go, James baby! Oh, yeah!" She would
spread her legs wide and rub her pussy until her panties were sopping wet,
then we would fuck until we were both spent.

Then one evening I was surprised to discover that she had decided not to bother
wearing any panties at all. She was rubbing her clit and sticking two and three
fingers into her freshly-shaved snatch.

Right then I decided to indulge her Mandingo fantasy, so I bought her this huge, black dildo.
This thing looks and feels just like a real cock, with huge balls and a suction cup on the base.

I wasn't real sure how she would react, and I was a little nervous about giving it to her,
so first I got her pretty buzzed on margaritas. (Laura gets really horny and looses her inhibitions
when she's high on tequila.) I turned on some Salsa music and told her to go put on her
"fuck me" shoes and dance for me. She started slowly stripping off her clothes while she danced,
and after a couple of tunes she was naked, sweaty, and ready to be fucked.

I gave her the gift bag with the monster black dildo in it, and I said
"Here, James wants to fuck you." She pulled him out of the bag and, man,
did her face light up! She was like, "Oh, yeah, baby!"
I knew right then that this was going to be fun.